Manufacturing products unique to DOHI
To be a world-class company
Our society is changing every minute. Under such circumstances, DOHI, which focuses on grinding and heat treatment technologies, has manufactured products which meet the needs of this age.
Our swing bearings, the key product of our company, dominate a share in the market of the bearings with an outside diameter smaller than 1200 mm. Our products are representative of world-class quality and cost performance, and we believe that, although customers may initially consider using low quality products in order to save money, they will instead choose our high-quality, competitively priced,and efficiently made products.
We are also eager to create new corporate values. Based on our knowledge of swing bearings, we have produced equipment related to logistics systems and parking machines. We have been working on strengthening our structure to survive in any change of circumstances; for example, we have introduced a paperless system, built the most advanced facilities, and secured capable human resources.
Over eighty years have passed since the establishment of our company in 1935.Armed with our great deal of experiences, we continue to endeavor to become a company chosen by customers all over the world.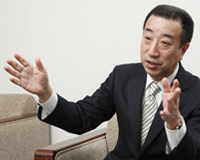 Shiro Dohi
President, DOHI KENMA Corporation